Financial targets
Our financial targets for 2023 and beyond is clear.
Disclaimer
Cautionary note regarding forward-looking statements
The statements contained in this presentation may include forward-looking statements, such as statements of future expectations. These statements are based on the management's current views and assumptions and involve both known and unknown risks and uncertainties.
Although Axactor believes that the expectations implied in any such forward-looking statements are reasonable, no assurance can be given that such expectations will prove to be correct.
Actual results, performance or events may differ materially from those set out or implied in the forward-looking statements. Important factors that may cause such a difference include, but are not limited to: (i) general economic conditions, (ii) performance of financial markets, including market volatility and liquidity, (iii) debtors' ability and willingness to repay debt, (iv) interest rate levels, (v) currency exchange rates, (vi) changes in the competitive climate, (vii) changes in laws and regulations, (viii) changes in the policies of central banks and/or foreign governments, or supranational entities.
Axactor assumes no obligation to update any forward-looking statement.
Axactor has set realistic targets which outline a clear direction going forward(*)
| Dimension | Targets 2023 | Targets 2024 and beyond |
| --- | --- | --- |
| Growth | NPL investments of EUR 100 -150 million | NPL investments of EUR 200 –300 million |
| Profit | Minimum 9% ROE | To be announced towards end of year |
| Returns | 20 -50% dividend payout ratio (**) | 20 -50% dividend pay-out ratio |
| Leverage (***) | Maximum leverage of 3.5x at year-end | Maximum leverage of 3.5x |
(*) Published 11 January 2023
(**) Based on FY2023 results and onwards.
(***) Leverage = (net interest-bearing debt / pro-forma adjusted cash EBITDA). As defined in the bond covenants.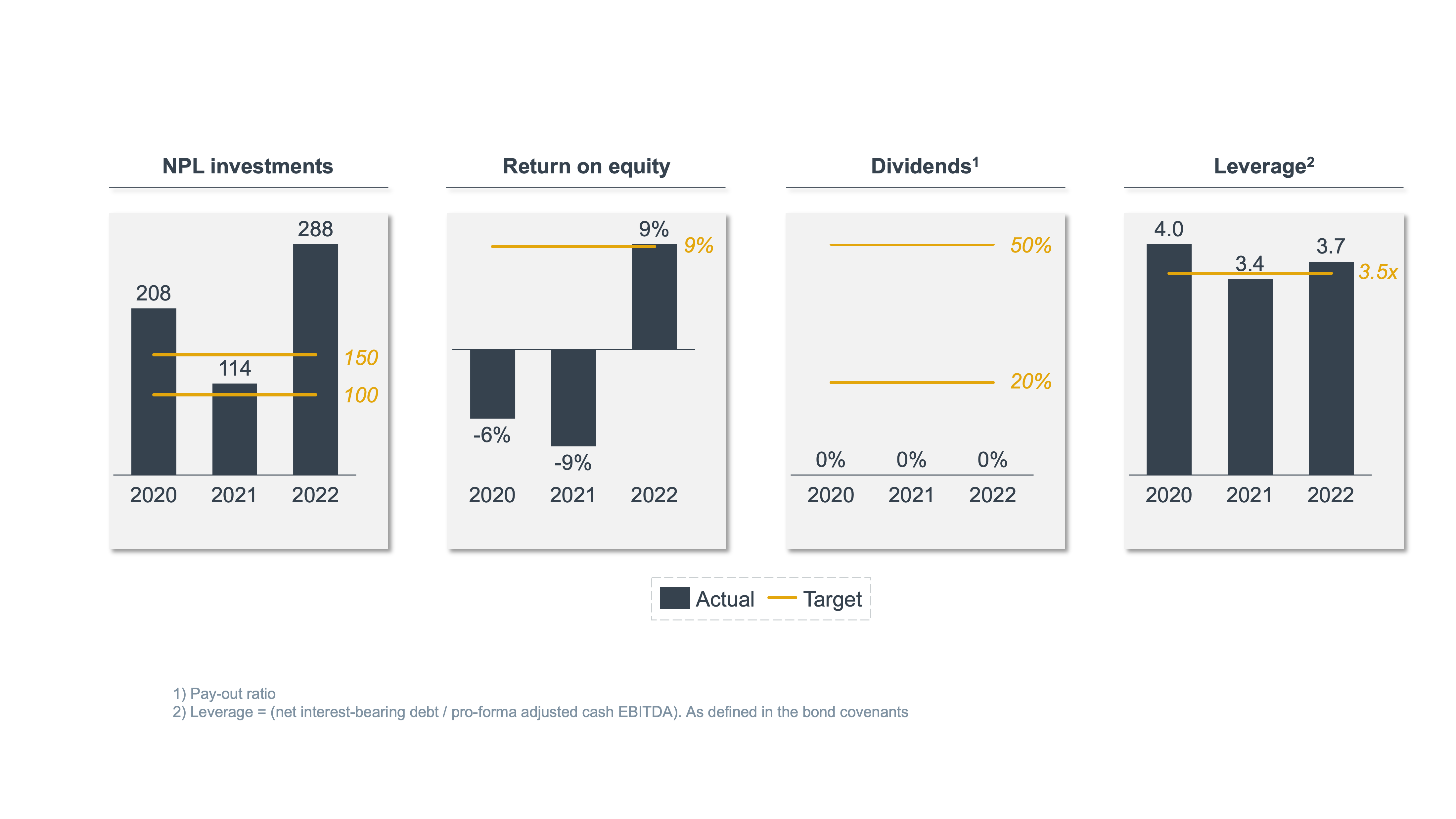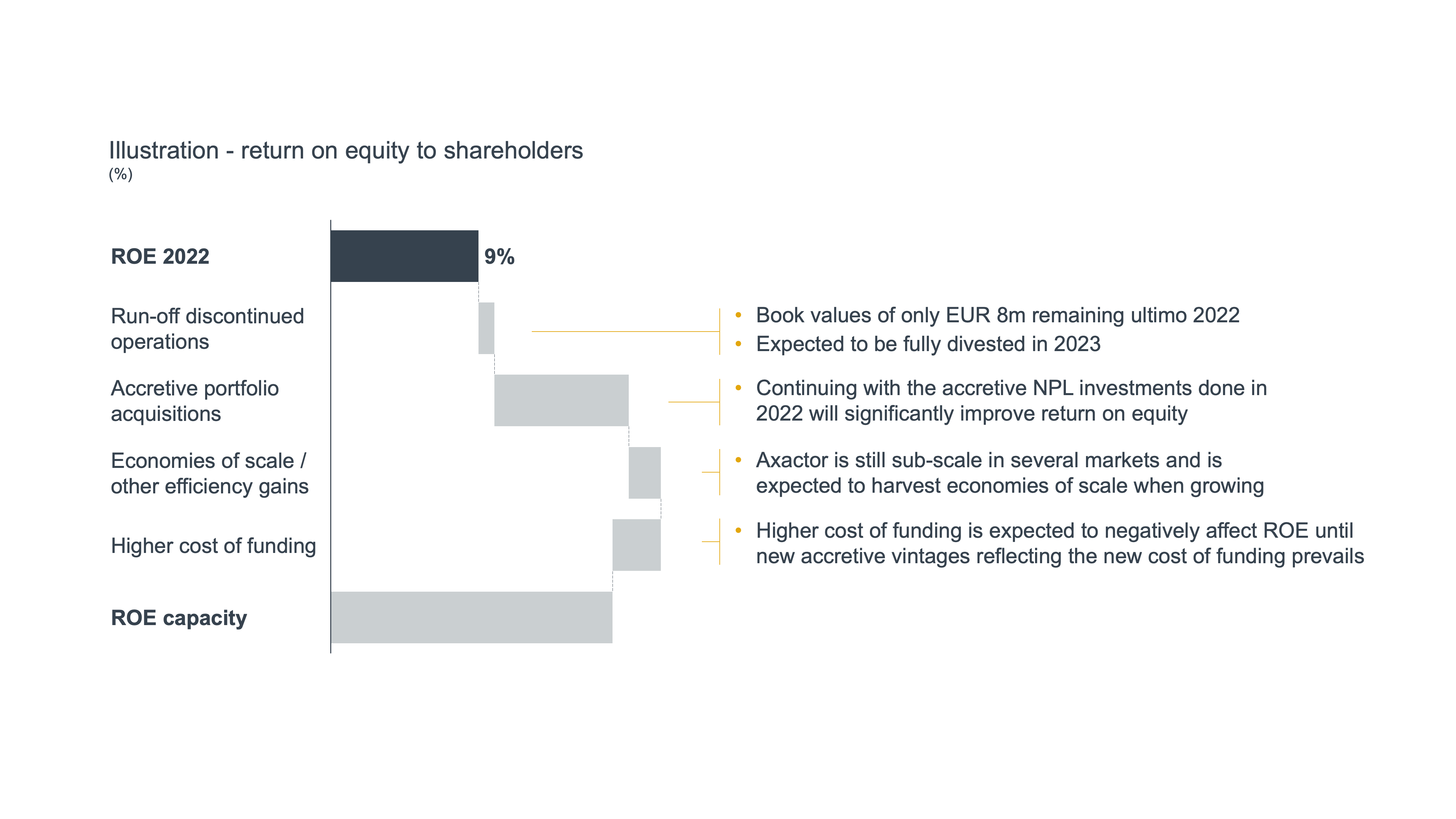 Want to know more?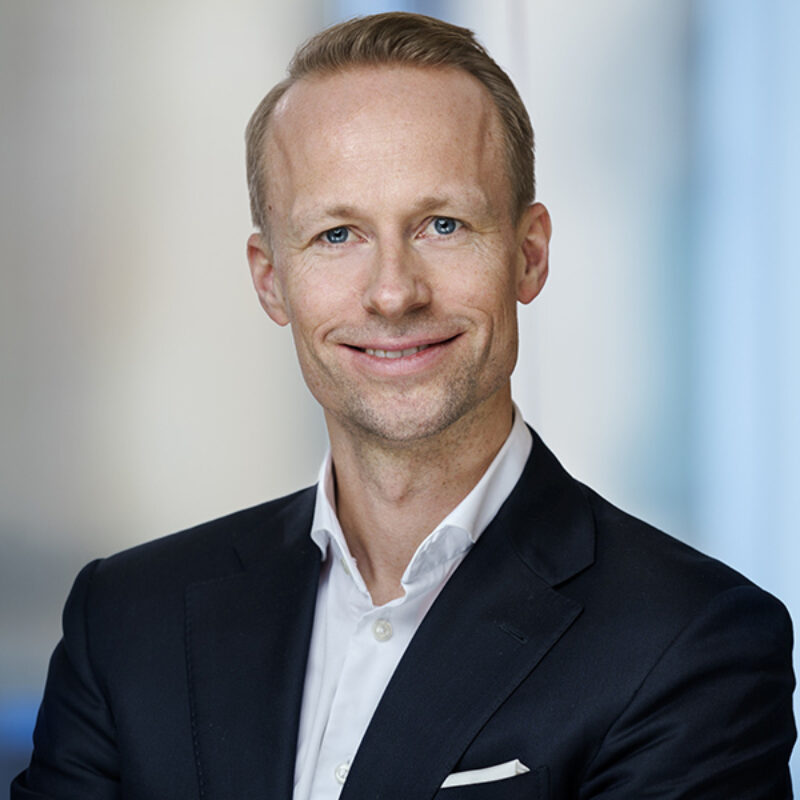 Kyrre Svae
Chief of Strategy and IR